Revelation of Fire
Novel
In the year 1938, with Russia paralyzed by Stalinist terror, the small state archives in Moscow received an old book called Revelation of Fire or the Cenergite Manuscript that had long been kept secret in a monastery.
Many years later, a Dutch Slavonic scholar and a Russian archivist discover the disappearance of the Cenergite Manuscript. As they try to uncover the hidden meaning of that incident, they start reconstructing the history of the manuscript and the many times it changed hands over the course of 200 years.
Many surprising or strange events revolve around the Cenergite Manuscript. The best-laid schemes frequently come to naught, the best of intentions turn out disastrously, the worthy fail to receive their just deserts, and evil eventually brings forth good.
The story unfolds during the most notable periods of Russian history: during the 1870's, for example; during the Civil War of 1919; the period of Stalin terror; the Brezhnev years; and finally, in the contemporary world. The novel is characterized by variety of scenes and epochs, high dramatic tension, and by its remarkable characters, many of them women.
The author about the book
"The idea of the novel connects with my personal experience. I studied the history of Russian literature at the University of Moscow and found myself unable share the official declaration of our culture in the Middle Ages as a great one. In reality, old Russian literature has not quite that many original writers or extraordinary books. Personally, I mainly pitied the fact that our cultural inheritance lacks some old, wise book to give us a sense of belonging.
In my novel Revelation of Fire, I imagined there being such a book, originating from an unknown 'Cenergite' order of the Russian Orthodox monks who followed Christianity in a very unusual way. This way could inspire people like myself, by which I mean those down-to-earth people who are not involved in any institutionalized religion but also don't share a strictly materialistic vision.
I follow the question: what would happen if such a Christian order and such a book did exist? It would be naive to imagine that the messages of these particular Russian monks would affect people any more than the New Testament has. I think that the 'great revelations' themselves create considerable confusion and misunderstanding in people. The same happens with the characters in my novel who discovered Cenergite manuscript. What makes the story so complex is the double nature of these kinds of manuscripts: from one perspective, they can be a message or represent a vision; from another perspective, it is but a collector's item or an object of some historical value. So, my novel became one that combines different elements: history, religious legend, action, love, adventure, and human drama."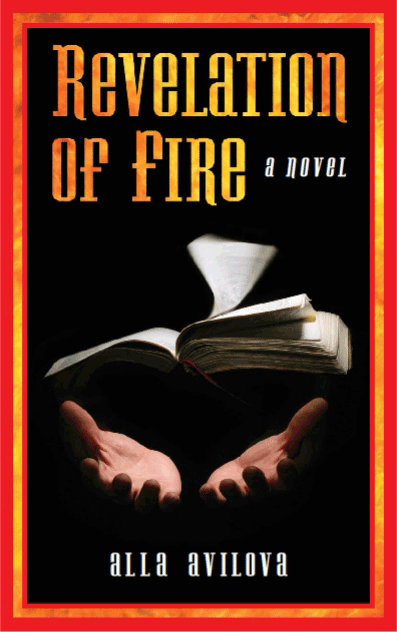 Revelation of Fire / Alla Avilova
Translated by Stephen Mulrine
The Permanent Press – Sag Habor, NY
ISBN 13: 978-1-57962-168-1
ISBN 10: 1-57962-168-6